RUFFIAN 40
BUILD OVERVIEW: Originally scheduled for a routine motor and transaxle install, the GT40 became Chris' second garage build and turned into a high tech restomod requiring new processes and technologies that would modernize the legendary GT40 Mark 1. The Ruffian40 was revealed at SEMA 2021 in Toyo's Treadpass booth and helped launch Ruffian Cars.
BUILD SPECS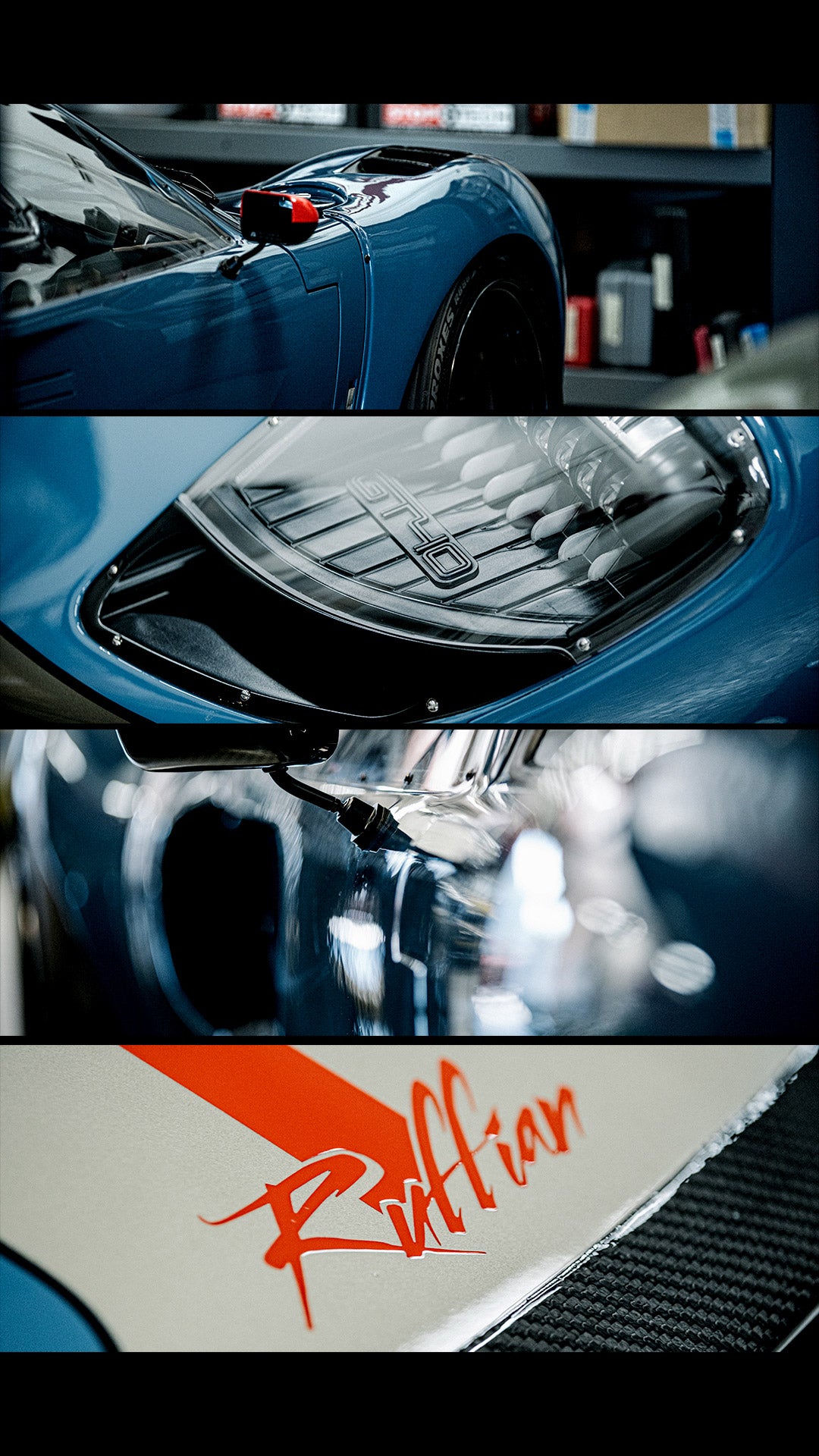 DRIVETRAIN
WHEELS AND TIRES
FUEL

Fuel Type: 91 Octane

Fuel Pump: Hyperfuel swirl pot
BRAKES

Manufacturer: Wilwood

Calipers: 6 piston

Rotors: 14"
ELECTRICAL

Battery: Braille

Engine Management: Ford control pack 2
EXTERIOR

Fenders and Front Spoiler: Designed by Kasim Tlibekov

Roof Scoop: Designed and built originally by Chris Ashton

Side Skirts: Designed by Competition Carbon

Widebody Kit: Produced by Competition Carbon

Headlights: Designed, built, 3D printed, finished, wired and installed by Chris Ashton

Taillights: Morimoto

Door Handles: Designed, 3D printed, and installed by Chris Ashton

Rear Spoiler: 1/8" aluminum sheet

Paint and Body: South County Autobody

Color: 2020 Toyota Cavalry Blue
CHASSIS
Ruffian40 Build Book - Softcover + PDF
The Ruffian40 build book dives into Ruffian Cars' most daring build to date: the modernization of an "untouchable" 1960's racing icon, the '66 Ford GT40. Follow along as Chris transforms a Superformance roller to a widebody SEMA masterpiece! The book measures 9"x12" and is packed with detail spanning 192 full-color, glossy pages. It makes a great coffee table book or conversation piece and will hopefully be a source of inspiration for future builders.
Regular price
Sale price
$29.99 USD
Unit price
per
Sale
Sold out
View full details