General
What does Ruffian Cars do?

Ruffian Cars builds and sells wild, one-off, turn-key classics inspired by vintage racing and supercar styling. Because every build is self-funded, the team has very few limitations and an open book on creativity, resulting in fire-breathing, heart-pounding, emotional works of meant-to-be-driven art with unrivaled curb appeal. Every completed road-and-track worthy car is serialized and signed by its builders, a forever unique one-of-one, never to be duplicated. Each build is immortalized with its own, highly detailed, full color build book, which you can find in our store!
How do I get one?

Once a build is complete, we will take offers. Each vehicle will be sold through our retail dealer partnerships.
What's the Ruffian team working on now?

We are currently finishing up a 1964 Galaxie 500 and 1967 Mustang fastback. Future projects include a 1970 Cuda, a 1972 Corvette, 1969 Mustang and 1957 Thunderbird.

You can follow these builds and more on our Instagram: @ruffiancars.
Where is the Ruffian garage located? Can I visit?

We're based in Southern California. At the moment we have a strict "no visitors" policy as we're all hands on deck for our big SEMA 2023 projects. Once the dust settles and we can focus on tidying up the shop to make it guest-friendly, we'll use our @ruffiancars Instagram account to share open house event details.
How did you get started with building cars?

I made a career in software development and the cars started off as an evening/weekend pastime. I'm self-taught and these days there are more ways to learn than ever. I watch a lot of Youtube videos, tv shows, and research online and have slowly built up my experience over the years. I learn the most by doing, making mistakes, and doing again.

-Chris
Is Ruffian hiring? What about internships or volunteers?

Our current openings can be found on our Jobs page. We aren't bringing on any more folks at the moment, but keep an eye out on our Instagram (@ruffiancars) as we'll post any hiring updates there first.
Are you interested in partnerships/sponsors?

Absolutely, but only if we are excited about the product and it suits a specific build.
The Cars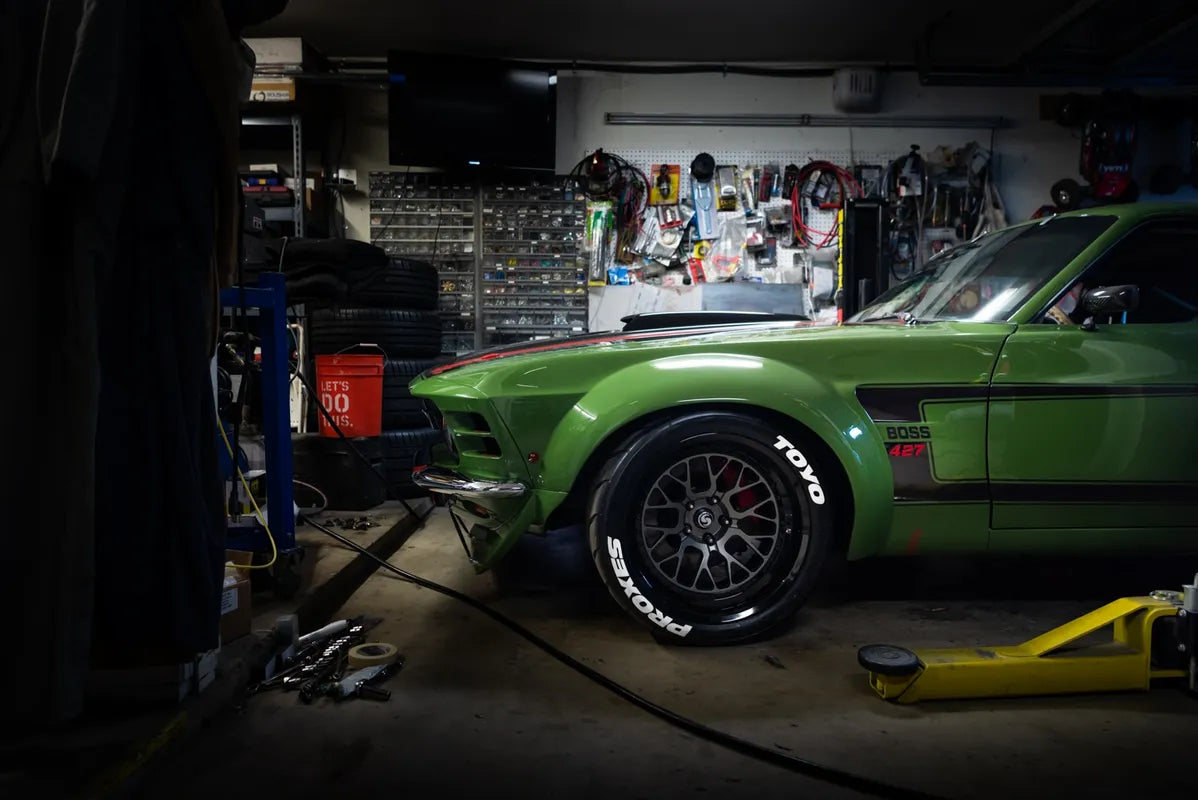 The Shop
BILLING & PAYMENT

What payment methods do you accept?
We've listed all accepted methods of payment on the bottom of this page (it automatically updates if we add or remove one). We do accept PayPal which we hope will make things easier for our international friends who don't have access to a debit/credit card.

Will I be charged sales tax?
We collect and remit sales tax based on your state and/or local requirements. You'll see on the checkout page whether or not sales tax will be charged as part of your order.

Do I have to pay import taxes?
All items entering another country are subject to Customs inspection and the assessment of duties and taxes, in accordance with the laws of that country. Please note that we don't collect import taxes at checkout, they will be due upon your order's arrival.

My card was declined. What should I do?
First, make sure that your billing information is up-to-date and there are no typos in your card number, expiration date, authorization code, or billing address. If that's all correct, please contact your financial institution to see if they declined the charge as part of their automated fraud prevention system; if so, you'll be able to verify the purchase with them and re-attempt it. They can also let you know if it was declined due to any other reason.
If you're still having issues with that method of payment, we'd then suggest you use an alternative and if that isn't successful please contact us so we can investigate on our side.
SHIPPING & DELIVERY

How much will shipping cost?
There are too many variables to provide an accurate answer here, but you can see what the shipping cost is for your order on the checkout page.

Why is shipping so expensive?
We have the same question every time we put in an order, too! We're not really qualified to properly explain the economic/shipping situation impacting the US, but it's less than ideal. However, the shipping rates you see are automatically pulled in from the couriers we use and are discounted from normal retail prices because we're a business, so you're getting the best deal we have available to us.

How long before my order ships?
Orders shipping to US domestic and Puerto Rico will be dropped off at the local post office within 2-3 business days after they're placed. International orders are usually on the same schedule, but additional processing time may be necessary if more information is needed to finalize customs paperwork. With that in mind, please plan ahead for holiday or special occasions by ordering well in advance of the date to ensure you'll receive your goodies in time!
Once your order is handed off to the courier you'll receive an email update with tracking information so you can follow its progress from there.

Why is my tracking status not updating?
There are a number of reasons why you might be able to access your tracking link but you haven't seen an update to your order's shipping status. Movement information is captured when the package is scanned at courier transfer points, so if the courier is experiencing a delay due to weather or a large number of packages moving through their system (i.e., holidays) it may not have been collected from the dropoff location yet. If your package is traveling cross-country, it may not show any movement for several days until it hits the next transfer point.
If your package is delayed, it should be noted on the carrier's tracking page along with an updated delivery date estimate. You can also usually find alerts on the tracking page if there are any events impacting their service.
MY ORDER

How do I see my order history?
If you have a Ruffian shop account you can log in and view your order history on your account dashboard.
If you placed an order as a guest you can view your order status page through the email receipt you should have received, or you can access your order history by registering a store account with the same email you used during checkout.
The little chat bubble near the bottom right of the screen can be opened to check on the status of your order or to receive an answer from our helper bot for common questions.
If those options don't work for you and the information you're looking for isn't provided in our FAQ above, please send us a message and we'll get back to you if it's something we can help out with.
Thanks for reaching out! :)